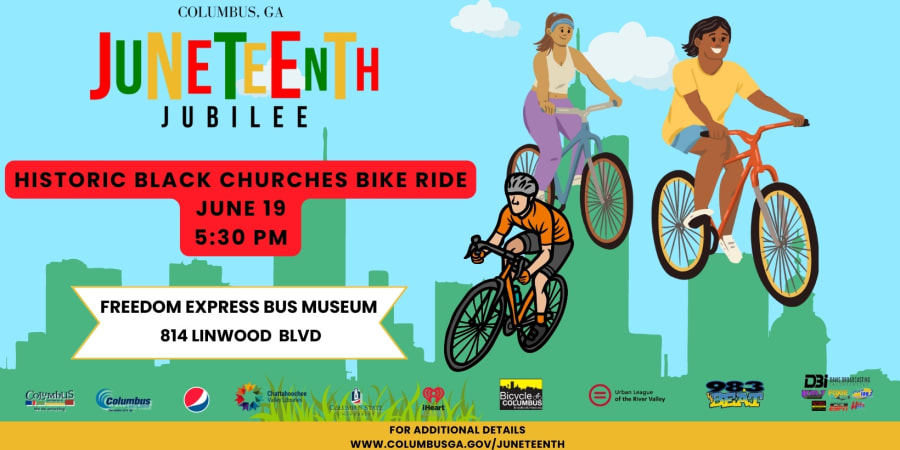 The Juneteenth historic Black churches ride in Columbus
We celebrated Juneteenth this year with a bike ride to historic Black churches and other local Black history sites in Columbus, Georgia. I think this was one of our most unique and impressive bicycle events to date.
Thunderclouds loomed over us just before it was time to begin, and we almost postponed the event in hopes of drawing a bigger crowd on a sunnier day. But the couple-dozen people who showed up voted to continue on anyway. They made the right decision, because everyone had a great time.
A gospel choir awaited us at our first stop, Metropolitan Baptist, which was an amazing way to begin the event. By the time they finished their songs, everyone was energized and excited to see what was next. Each of the other churches, Saint James A.M.E. and First African Baptist, had an interpreter to guide us through and explain its history. They didn't just discuss the history of the building, but also of its people and what the church had contributed to the community over the past two centuries. One guide was a third-generation member of the church, and she recounted stories that she had heard from her grandmother. Our other historic stops were the Ma Rainey house and the Old Slave Cemetery. The ride concluded at Moe's Barbecue restaurant for dinner and more music.
The route was as short and easy as it could get, only about four miles. This was good for our diverse crowd, which included lycra-clad cyclists along with families hauling children in cargo bikes. No one had a chance to get tired or fall behind because we had a new stop every couple of blocks. We took our time to enjoy each each site, so, despite the short milage, the whole event lasted about three hours.
Traveling by bicycle was a major enhancement for an educational event like this. We got to see not just the churches, but the streets and homes around them up-close and personally. We all felt more engaged than we would if we had rode in a car or bus. It was easier to sense how interconnected the community was, and still is, rather than as just bubbles of parking lots.
We also got some local media attention from WTVM, who followed us around (by car) and recorded the event. You can watch WTVM's coverage here.
I hope we can do more cultural events like this in the future. Everyone had a great time, and our hosts at the churches were thrilled to have us. Anyone can get a long group ride together, but how often does your bike ride include a gospel choir?